CityLine Women — Volume 16
Hello CityLine Women,
I'm excited to share that we are now blogging! Each month you will still find an inspiring word from one of our women, information on upcoming events/studies, and discover ways to get connected. Previous issues can also be accessed and shared in the near future.
This month, Cathrina Co, who serves as our Connections Coordinator, shares her insights of how we can respond in the midst of challenging life seasons using biblical models and the identity of God.
Blessings,
Susan
---
Walking in God's Triumph
Summer.
What comes to mind when you think of summer? Vacations? Sunshine? Late-night swimming? Ice cream?
While I pray your summer has been filled to the brim with joy and blessings, I can also imagine that there have been moments of sorrow, hardship, conflict, and stress. Maybe you've been caught in the middle of debates regarding political issues. Or maybe you spend sleepless nights wondering how to raise your children in a pluralistic society. You could be avoiding doctor's calls because it seems all they must give is bad news. Maybe you're hanging on by the hour because the list of to-dos is more than you can bear. Amid the chaos going on in the world and in our personal lives, how are we supposed to think? What are we supposed to do?
The Bible provides us with countless examples of those walking through hardships. Job lost his wealth, health, and family in a short span of time. Ruth carried the burden of providing for her and her mother-in-law. Queen Esther held the weight of the Jewish people in her hands. David struggled to be a good father.
It's easy for us to relate to the feelings of each of these individuals because, in our own way, we all go through hardship and suffering. Maybe that's your season right now. However, through your trials, what if there is a bigger picture that you are completely unaware of?
In Ephesians 6:12, Paul advises, "For we do not wrestle against flesh and blood, but against the rulers, against the authorities, against the cosmic powers over this present darkness, against the spiritual forces of evil in the heavenly places."
In the case of Job, Satan was the clear adversary inflicting all kinds of pain upon Job. Today, Satan is very much still at work, and God's people remain his target. In fact, Satan's name literally translates to "adversary" in the Hebrew language. It is his goal to distort our view of God so that we may become distant from God, or, worse yet, turn away from Him.
So now that we know a lot of our challenges are Satan's work, what do we do? How do we counter-attack this strategy of the enemy?
In Isaiah 37:14-20 King Hezekiah is taunted by the King of Assyria. Hezekiah's immediate response was to go to the house of the Lord, lay out the attack before God (because it was in the form of a letter), and pray to Him.
The first words in Hezekiah's prayer were to declare that God is the Creator and LORD of hosts, who is enthroned above all including heaven and earth. Saying this praise acknowledged God's sovereignty and power above the situation. Though Assyria taunted God, blasphemed His name, and claimed God could never overpower Assyria, Hezekiah's prayer declared the truth of who God is as the Defender of Jerusalem.
Hezekiah could have gone to God and uttered a plea for deliverance first. But he knew it was more important to speak of who God really is and have confidence in Him.
So, when it comes to our situation, we too can lay out all our concerns before God and declare who He is. When the funds are too tight to cover the bill, declare God as Jehovah-Jireh, my provider. In the loneliness of motherhood, declare God as El Roi, the One who sees me. As conflict arises at work, declare God is Jehovah-Shalom, the Lord of peace. Each time you repeat God's names, you sucker punch the enemy. You grow in confidence in the truth of who God is as well as intimacy with Him.
We remember that this battle we fight each day is the Lord's.
---
Prayer
Father, we praise you today, Almighty Lord, as the everlasting God, the Creator of the ends of the earth. You never grow weary, and your understanding is so far beyond our own. No matter what situation we face, you alone give us the power to endure. We place all our hope in you and rest assured that you will renew our strength. We long to soar on wings like eagles; to run and not grow tired; to walk and not be faint–on any and every path you set before us. Thank you, Lord, for giving us all we need, and for being all we need. We march boldly in your triumph. In Jesus' name, amen.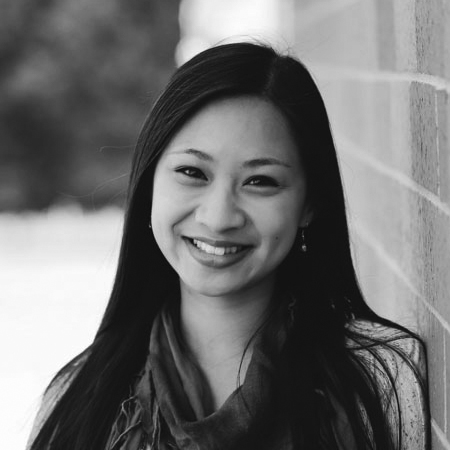 Cathrina Co
About the Writer
Cathrina and her husband Tim reside in Des Plaines. She is currently in school to become a clinical and mental health counselor and a marriage and family therapist. She has a heart for teens and young adults and discipling the next generation for Jesus.
Serving Opportunities
As CityLine Women, it's important to us not only to grow personally in our walks with God, but also to be the hands and feet of Jesus outside of our local church community. Here are two serving opportunities you can take advantage of:
If you are interested in any of these opportunities, please contact Frances Jimenez.
---
Studies
Revelation: All Things New 9/12
---
Community Groups
Join a Women's Community Group today and be part of Bible study, fellowship, accountability, and fun!
---
Ministry Needs
If you have the heart to serve women and are interested in joining our women's ministry events/hospitality team, we would love to connect with you.
If you have a gift in the fine arts (painting, spoken word, dance, writing, etc.), we would love to hear from you.